One of the attractions of Tokyo is its modern atmosphere. Being at the forefront of technological innovation, it is a fantastic place to experience all things futuristic, and no where is this truer than at Moonflower Sagaya Ginza.
A Teamlab and Sagaya collaboration
The internet has been bombarded by images from Tokyo's expansive digital art space, Teamlab Borderless, the most famous of which is its lantern and LED rain rooms. However, few know of a private place in Tokyo where Teamlab's interactive art exhibition skills have teamed up with some of the best chefs in Japan to create an unforgettable culinary experience.
An exclusive experience
If being in Ginza (literally translated as 'golden seat' in Japanese) wasn't enough, as you walk through Moonflower's doors and into the dinner room which only seats 8, the exclusivity of this experience is immediately apparent. At the time we visited, the restaurant was offering an autumn-themed menu which was echoed in the maple trees projected onto the walls.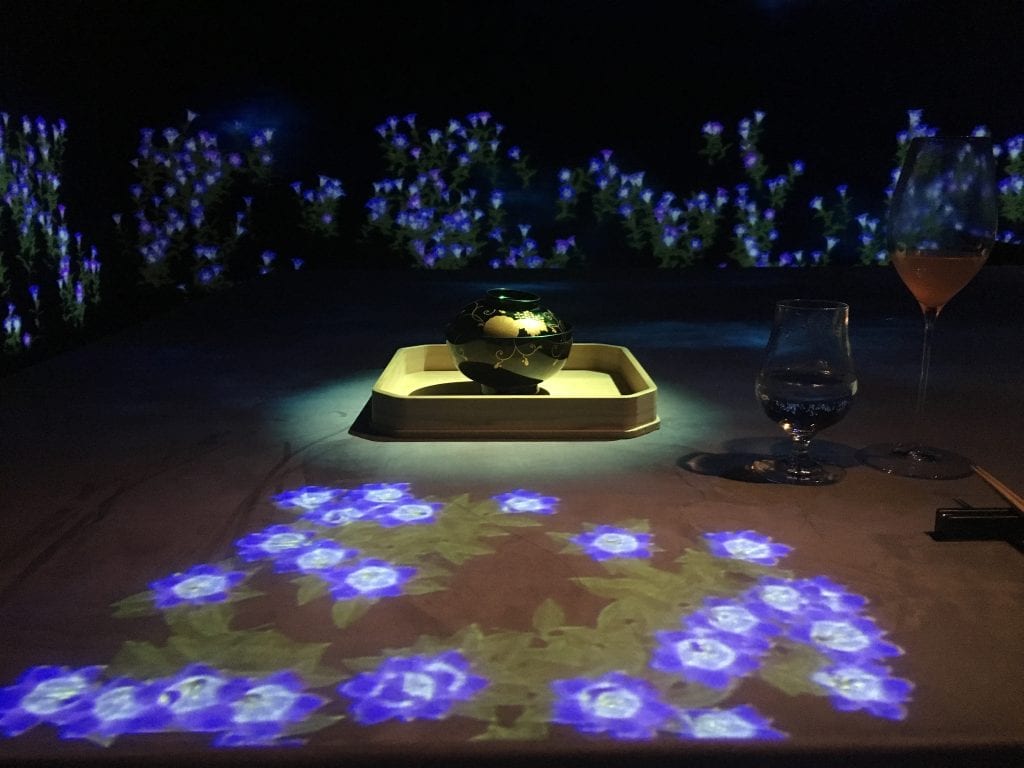 Delicious cuisine
Dinner consisted of 12 separate courses, each of which was paired with a moving artwork piece. The star of the show was the succulent Saga beef (served in a juicy sandwich, as sukiyaki and in a lobster tartar) which literally melted in our mouths. Each dish was magnificently presented and the flavours extremely well thought-out. This was only enhanced by the stunning digital art displays which changed with each plate.
Living art projections
One of the favourites of the evening was a projection of a flowing river onto the table. Complete with lively fish and flowers, we had a great time watching the water divert around our plates as we moved them around the surface. Some of the other works that were particularly enjoyable include the waving pampas grass at full-moon, the falling red 'momiji' autumn leaves and the brilliantly coloured wall of flowers towards the end.
So if you're looking for a food adventure like no other, one without the crowds, then a visit to Moonflower Sagaya may be just what you're looking for!