Just south of Tokyo, floating in the Pacific Ocean, are a group of 7 islands known as the Izu Islands. On a recent trip here, I fell in love with Hachijojima. More popular with domestic tourists than foreign, it is one of the bigger islands in the chain. This was by far one of the most relaxing trips I've been on, and here are a few reasons why Hachijojima is my top island getaway!
1. It's pristine water and vibrant sea life
Hachijojima has some of the clearest water I've seen in a while. During our time there, we saw many a scuba diver surfacing from their ocean exploration. We spent a couple of hours snorkeling at Sokodo beach and had the privilege of encountering some giant sea turtles! Not to mention the countless schools of brightly-colored fish.
2. An inception-like double volcano
At the center of the island, you'll find Hachijofuji – Hachijojima's volcano. But this isn't just your average volcano. Viewed from above, you can actually make out it's double caldera, which is a volcano within a volcano. Talk about inception! We hiked around the rim of Hachijofuji, covered in long grass and greenery, was stunningly picturesque. The panoramic view of the ocean and nearby islands was unparalleled.
3. The beautiful black sanded beaches
Being a volcanic island, Hachijojima's sand is a deep black. A short drive and jaunt through a forest took us to the island's cliffs. Covered in black sand, the abrupt edge gives way to endless blue and is a great stop for sunset.
4. Mouth-watering island style cooking
Japan, most notably Tokyo, is a giant on the cuisine scene. Boasting hundreds of Michelin star restaurants, people from all over the world flock to Japan just to taste its food. These places are in doubt amazing, but in my opinion there is no replacement for homestyle Japanese cooking. The staff at our ryokan laid out an incredible spread every day. All the produce was local, fresh and most importantly, absolutely delicious.
5. You can get there by helicopter!
Saving the best for last, once of the coolest things about Hachijojima is that you can get there by helicopter! Flights are available daily from some nearby islands. I am no fan of heights so it was somewhat disconcerting at first. However, I eventually warmed up to the experience and ultimately appreciated the killer views it offered.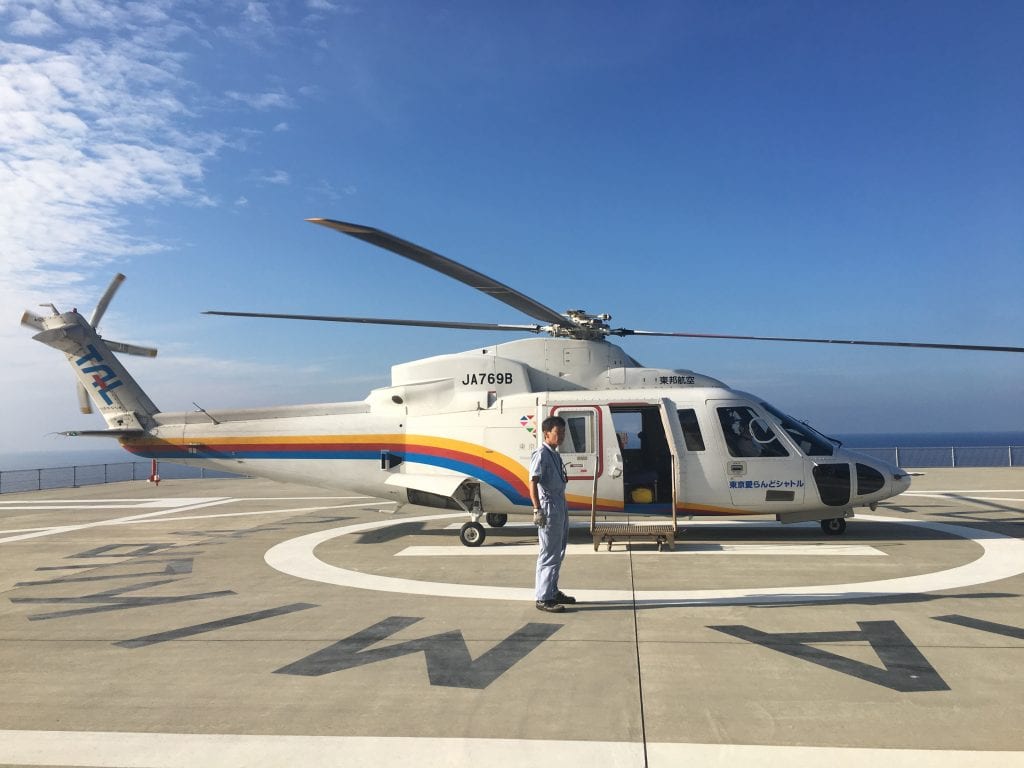 When to visit and getting around
Hachijojima is best visited in the warmer months. I enjoyed my time there is October, which was still surprisingly warm. It was also during the week which meant I missed the weekend crowds. You can get there via overnight ferry or plane from Tokyo, or helicopter if you're also visiting any of the nearby islands. I rented a car while there as public transportation is relatively irregular.
A great way to travel here is as a part of our Yamabushi or Kotobuki tours. So what are you waiting for? Grab your snorkel gear and bathing suit and head to Hachijojima for an island experience you won't forget soon.