One of the things that attracts thousands of visitors to Japan, is the opportunity to appreciate multiple stunning shrines and temples. These spiritual centers vary from simple to ornate, but many are worth the visit. However, after seeing several shrines it's easy to get bored. To break up the monotony, I highly recommend buying Goshuincho at the first place you visit. Then you can start to collect Goshuin. This is a great way your shrine and temple visits more meaningful and fun!
What are Goshuin and Goshuincho?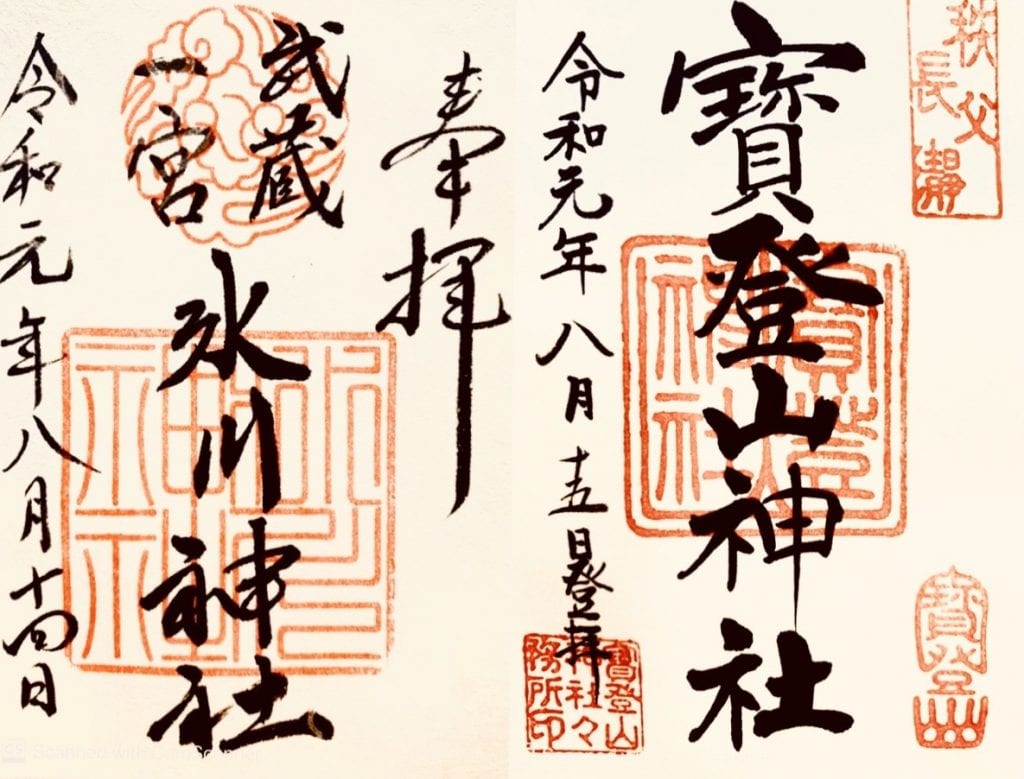 Firstly, look how they beautiful are! Goshuin (御朱印) are stamps with calligraphy done by monks that you can receive in your Goshuincho. A Goshuincho is a small notebook which you can purchase at bigger shrines and temples.
When you visit shrines/temples and tell one of the staff that you want to receive a Goshuin stamp, a monk will inscribe your book with the following: the name of shrine/temple, the date of your visit and the signature of your worship. This is all handwritten and accompanied by the most beautiful red stamps. These stamps usually show the shrine/temple's name and sometimes its emblem. Some shrines/temples even have seasonal Goshuin designs which relate to some Japanese traditional events. So collecting Goshuin in your Goshuincho notebook can be a great way to commemorate your shrine/temple visits and the book itself will be a memorable souvenir.
Don't worry, even if you do not believe in Shintoism or Buddhism, you can still enjoy this tradition. Collecting Goshuin is a popular activity among Japanese youth people, especially women. This is attributed to the beauty of the Goshuin and the belief that they can bring good luck in the fields of love, business, school exams and more in this modern era. Some shrines/temples change their Goshuin's design every season, or boast new original designs, for example, collaborative works with animators. Not only are new visitors welcome, but are encouraged to return again and again for new designs. It is one way to show your appreciation for Japanese culture. Everyone can enjoy it as long as they do so with understanding and knowledge of how to act respectfully.
Origins of Goshuin and Goshuincho
Traditionally, worshipers would receive a Goshuin stamp after copying out Buddhist sutra by hand. When a worshiper had done this hard work, which is considered one of the important actions in Buddhism worship, they would receive a Goshuin to certify that the temple has accepted his or her copied sutra. A collection of Goshuin on Goshuincho notebooks was the proof of somebody's achievements and history of training for a long time. Therefore, it is believed that Goshuin should be treated with great respect since it includes shrine/temple's name and are considered as important talismans.
Etiquette of Goshuin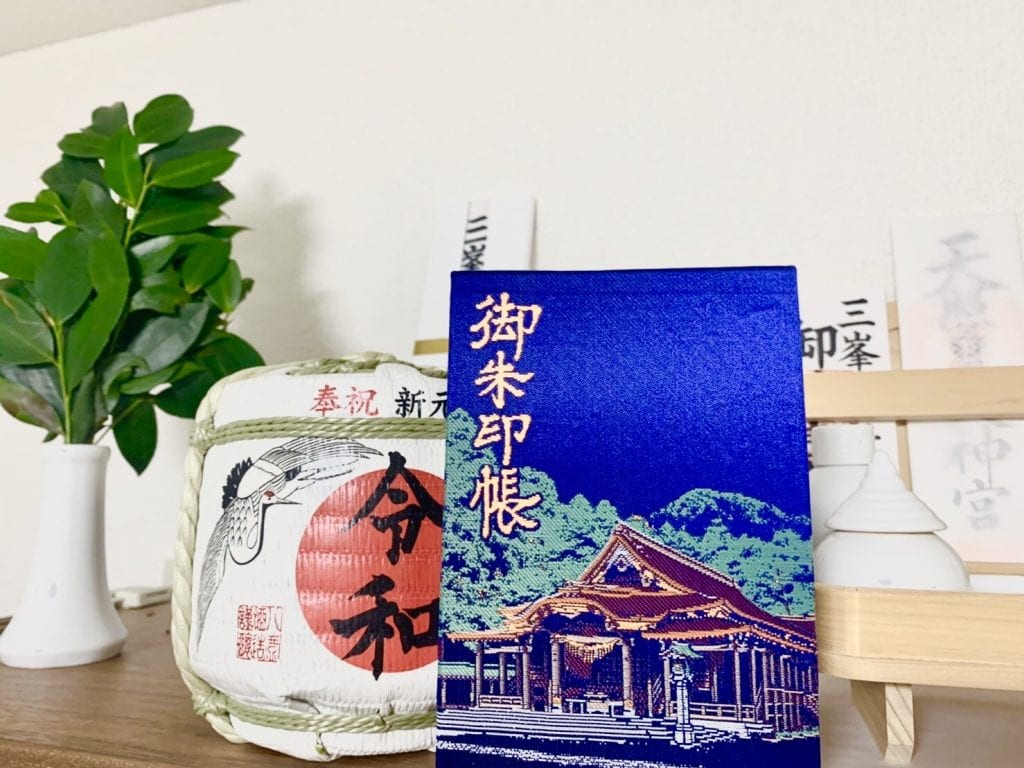 Anyone can receive Goshuin by paying around 3 to 5USD at many shrines and temples in Japan.  Although, the idea that one 'buys' Goshuin is not completely correct. Paying for Goshuin at shrines or temples is based on the state of mind that Goshuin are not simply products, and the money is a thing you offer voluntarily. This is actually the reason why I've used the word 'receive'  instead of 'get' in this article. Therefore, asking for changes or expecting to get a service as a customer is not really welcomed by staff. It is also better to prepare coins before you visit the shrine/temple.
Goshuin should be stamped on the Goshuincho. Asking to receive Goshuin on any other items, such as your original collections of sticker or seal-notebooks or a piece of paper, is considered taboo. In other words, Goshuincho should be used for only collecting Goshuin.
Another reason why it would be better to prepare a proper Goshuincho for collect Goshuin is that its thick pages are better to prevent the ink bleeding on the page and onto the page underneath. Thin pages do not preserve the calligraphy as well as thicker variety; important because the monks' calligraphy will be written with a feather brush and ink.
Many people keep their Goshuincho at a small alter to Shinto or Buddhism at their house. In general, it is said that the higher you keep your Goshuincho, such as on a top shelf, the better. If you treat it with respect, it may bring you some good luck or ward off bad spirits!
How to receive them
First, check if Goshuincho are sold at the first place you want visit. If not, Goshuincho notebooks are available at stationary stores as well. Choosing your favourite design at a stationary store, or finding one that has each temple's original design, are both fun ways to start roaming Japanese temples and shrines.
Second, when you arrive at the temples or shrine, it is better to worship first. Although Goshuin are not longer considered as the proof of copying sutra for most people, it is still viewed as proof of worship. If you are interested in how to act in shrines and temples, there will be an article and video about this here in the near future (so keep this blog in mind!)
Finally, you should ask one of the priests or a 'miko' (a priest's helper in Shintoism) for a Goshuin, or find the reception for Goshuin. Some temples/shrines ask you to give them your Goshuincho at reception before you worship so as not to make you wait for a long time. In other cases, you may need to find a bell or door to knock on if it's a small shrine. Please don't ring the bell at night. 9-10am and 4-5pm are common available times at small shrines.
When you received a sheet of a paper which is drawn in advance, you can glue it onto an empty page in your Goshuincho.
Keep in mind that there are still some shrines and temples which will not give Goshuin without receiving a hand-written copy of a sutra. In addition, the temples that are from a religious sect called 'Jodo Shinshu' do not offer Goshuin.
When you are not able to receive Goshuin
The last belief about Goshuin culture that I want to share with you is that Japanese people believe receiving a Goshuin is fate. There is a chance you will not be able to receive Goshuin because you are out of time, there are no people or something goes wrong to visit there. But you do not need to be disappointed; other amazing opportunities will be waiting for you in other temples or somewhere else in Japan.