A quick guide for planning your own trip vs. other options
So you've decided to visit the land of the rising sun. You've written down a list of the places you want to see, the foods you want to try, and even the activities you want to experience. Now comes the hard part of budgeting for your trip and trying to figure out how much money you need to set aside for your new adventure. How much money do you need for food? Hotels? Transportation? Guides? Activities?
I have lived in Japan for 14 years, and have lead many group tours as a guide in Japan, and have planned private and custom tours for years now. I'm writing this article using my cumulative knowledge of Japan to help you figure out what the best way to visit Japan is for you personally, and to also give you some insider knowledge from the perspective of a travel planner.
Asia is an extremely diverse region. As a travel planner who plans trips for people visiting Japan exclusively, I often receive trip requests from people who have visited other countries throughout Asia, and want to base their budget for planning off of how much it costs them to travel to other countries in the region like Vietnam, or Taiwan. This, unfortunately is not possible. Japan is one of the most expensive destinations in all of Asia and is consistently ranked as one of the region's Top 3 most expensive places to visit (Hong Kong, Macau, and South Korea are some of the other destinations that rank higher as well). To put this into monetary terms, If you're planning a trip to Japan on your own at the lowest you can expect to spend on average, around $125 – $150/a day (this is per person at the low end of the cost spectrum). You may be able to arrange something cheaper if you are traveling with other people by sharing rooms, but keep in mind that this figure is the average per day cost that has factored in food, accommodations, transportation, activities, and everything else outside of flights. Whereas there are other countries in Asia (like Laos, Nepal, Cambodia, or Mongolia for instance) where you could get by on a budget of $30 or less per day.
Let's take a look at what is included in this price (please be aware that these costs are averaged, and are at the lowest end of the cost spectrum):
Accommodations: ~$60/night
Transportation: ~$35/day
Activities: ~$40/day
Food: ~30$/day
Other (shopping, etc.): ~$15/day
For a 10-day trip, you're looking at a total of $1,800, give or take (excluding the cost of flights)
Let's take a quick look at these numbers. With accommodations, this is the average cost of a budget hotel. You do have cheaper options. Guesthouses are becoming more prevalent in Japan (although I don't know what it will look like once the travel restrictions due to COVID-19 have lifted) and are a very cheap, and viable option for those who just want a place to sleep. You could probably cut that number in half if you stayed at guesthouses exclusively during your visit. Japan, on the whole, has relatively clean guesthouses. But make sure to do research beforehand!
The transportation figure is based on the cost of a 7-day JR Pass (usually around $280 or so), and I've added a little for areas where you typically can't use a JR Pass (usually within larger cities, where the subway is the more viable option). A lot of people tend to plan their long-distance travels within the seven day period and then spend the last three days in Tokyo before flying home. Please keep in mind that you no longer need to purchase your JR Pass before arriving in Japan. However it is cheaper to buy outside of Japan, and thus I've factored in the lower price.
For activities, I've calculated this, again based on the lower end of the spectrum. There are a lot of activities and experiences that alone would cost more than the entire $400 that I've budgeted here, however you can still have a really good time in Japan for ten days with this amount! $400 won't be enough for someone who is looking for a trip that is tailored around their interest. For example, I've planned a trip for someone who was very interested in martial arts, and a trip to a dojo where they had a personalized kendo lesson cost upwards of $200. The more specific you get with your activities, the more you should budget for this category.
Having said that, $400 (or $40/day) is probably OK for someone who is solo traveling and just wants a general trip.
Food! If you come to Japan, and you don't eat everything, you've missed out! Food is an experience in and of itself. I know that there is someone out there reading the numbers for the activities category, and the food category and asking themselves why they are so close. The answer is that there is so much good food to be had here in Japan, and it would be criminal for you to slack on this part of your trip! I highly suggest making sure you have enough money to treat yourself to good meals while here. For a budget traveler, $30 is more than enough to try a variety of places out without breaking the bank. For a food-lover, it will not be enough!
The 'Other' category is mostly for shopping, and anything else that may come up. Again, this number is on the very low end of the spectrum.
So, there you have it. A quick look at the lowest budget level for your average trip to Japan. Please refer to the table below for a quick visual for a quick overview. Please keep in mind that you could save around $300 to $500 if you were willing to stay at a guesthouse or hostel during your visit, and if you were willing to cut back on your food and shopping budget, meaning your total budget could be between $1200 to $1500.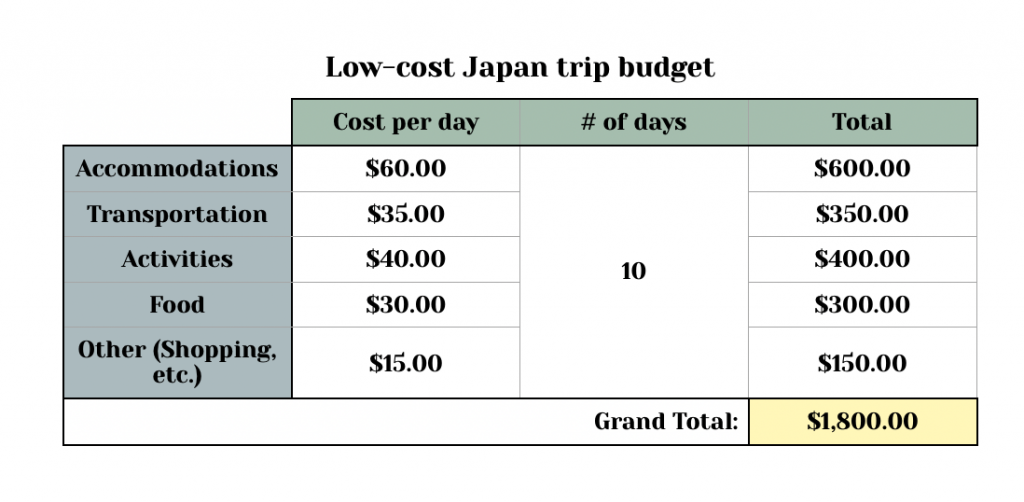 There are many ways to travel, however, and I would like to go through some of your options with you. The main ways are self-planning, group tours, and a custom tour or a private tour that has been planned by specialist specifically for you. Let's now take a look at each option below:
We'll start off by taking a look at group tours.
A group tour is for you if:
You enjoy relaxing during your vacation, and do not want the stress of planning and figuring out how to navigate an entire itinerary while traveling.
Choosing a group tour that has most or all of the destinations that you want to visit, and then letting your guide… guide you throughout the country is the best way to travel if you get flustered while trying to organize things, or if you're the type of traveler that worries about getting all of the highlights in. There are a lot of people who travel with a 'checklist', meaning that they most likely have a list in their mind, or written down, of the things that they want to see and do while traveling. There is absolutely nothing wrong with this way of organizing, and compartmentalizing your travel, and having a guide with you is one of the best ways to make sure you get as much as you can out of your trip.
Japan is making efforts to add more English to signs at their major stations around the country, however it isn't perfectly set up for tourists just yet, and the English ability of station staff isn't really that great. Thus finding your way around may be a task, and it can definitely take away from the experience of being in Japan when you have to constantly figure out how to reach the next spot, without a guide.
However, be sure to read the descriptions of each of the group tour departures that you are considering carefully. Not all group tours are the same. Some of them are what is called an SIC tour, which stands for 'seat-in-coach', which means that you will be on a bus for most of your tour. We, here at Kichi Japan, do not offer any bus tours whatsoever. We may utilize a bus, for transport in smaller towns that don't have trains, but we don't have any tours that are mainly done on a bus where you sit and look at things. However, we can organize a private one.
As a guide, on group tours I get a lot of people who have specific things that they want to 'switch out' in the itinerary. During orientation on the first day, they will let me know that they want to do their own thing on that day, and I will put together a quick itinerary for them, and make any reservations necessary for them. Without fail, there is always at least one instance of this on every group tour. In fact, there are situations where the group actually likes that person's idea more than what's on the itinerary, so we all go there as a group instead, and since the guide is going with them, no one has to fiddle with maps.
You enjoy meeting people from around the world who are also traveling through Japan.
If you want to meet other fellow travelers, and make new friends, then group tours are one of the best ways to do so while traveling. All of our group departures have a group chat with all of the members, so that the guide can keep track of everyone, but what the group chat eventually turns into, is a place where everyone can share photos, and also a place where everyone can keep in touch after leaving Japan. I have group chats from years ago that are still active with people who have become lifelong friends after their group tour, and have also traveled together after Japan to other countries.
You want to get the most value for your money.
A group tour is the best way to get a variety of experiences while visiting Japan, for a relatively inexpensive price. Most group tours (not just our own) are created with the younger, budget-conscious crowd in mind. Ours specifically, are for those who are more interested in having memorable experiences than they are with staying at luxurious accommodations. Thus we splurge in the activities and experiences, and balance it out by keeping the costs of accommodations low for our guests. We offer upgrades for those who do want better accommodations, however the focus is on activities, destinations, food, and eye-opening experiences.
Beware though of itineraries that advertise a multitude of activities that end up being 'optional' when you read the fine print. When shopping for a good group tour, chances are most of them will have some optional activities in the itinerary. Our group tours even have one or two, depending on the tour. What you should be aware of though, are companies whose itineraries are pretty much pushing the cost of activities back on to you by making them 'optional', meaning that pretty much everything listed in the itinerary is something that you will end up paying for when you arrive in Japan.
The cheapest options for group tours are mostly filled with optional activities to keep their advertised price as low as possible, because they are aware that most people searching for a group tour are only looking for the cheapest prices, and aren't really looking at anything else. Thus they catch your attention with the price, and are hoping you won't read the fine print before purchasing. When you arrive, you'll be surprised to find out that you'll have to pay again for most of the activities advertised in the itinerary.
Next, let's take a look at some of the benefits of arranging a custom or private tour.
A custom tour is for you if:
There are no group tour departures that fit what it is that you want to see and do in Japan, or the dates don't fit your schedule / your schedule doesn't allow for you to plan an entire trip by yourself.
This one is pretty self-explanatory. If your schedule doesn't align with the departures that you are wanting to participate in, or if you know that you want to visit Japan at a very specific time (maybe there is an event or a matsuri that is happening at that time), then a custom tour is the best way to go.
You prefer privacy when traveling, and want to avoid crowds.
As most group tours include a lot of the highlights and tourist hotspots, a custom tour is a good way to go if you don't want to only visit the hotspots, and you are looking for a more intimate and personalized experience when visiting. Japan is on its way to becoming one of the most visited countries on Earth! This has its pros and cons. Some of the pros being that it is just generally easier to travel throughout Japan if you are visiting as things have become more and more tailored for foreign travelers. One of the cons however is that there are fewer and fewer spots that aren't overrun with tourists. Places that were, just a few short years ago, almost unknown have become packed and you'll be standing shoulder to shoulder with a hundred other people. This is where a planner comes in handy. If you want to have seclusion, and not miss out on some of the best places Japan has to offer, then a custom tour is definitely for you.
You want the assurance of knowing that your itinerary was handled by a professional, who possesses intimate knowledge of your destination.
If you are not going to do a group tour, but still want an itinerary that was crafted by someone who understands the ins and outs of Japan as a destination, then a custom tour is for you. The luxury of being able to tell someone about what it is that you want to do, and then having them figure everything else out for you is a wonderful way to travel!
You enjoy more exclusive and luxurious experiences and accommodations when traveling.
It can be difficult at times to know where the best accommodations are in every town that you'll be visiting. Especially since the whole 'star' rating system is essentially arbitrary, and there are no international standards for measuring the quality-level of an accommodation. Having someone who knows the accommodations, and can cater the choices based on how you like to travel is such a nice bonus. Some custom tour planners can even run personal checks of an accommodation before you arrive to make sure that they meet your standards (that's us I'm referring to).
You want to travel privately with your family or friends.
Kind of fits into the second reason, but if you want to travel as a group, but not with strangers then a custom tour would be the best option for you. We've even recreated some of our popular group tour itineraries for people who are traveling privately as a family.
Cost isn't really a big factor in your travel planning.
This is probably the most important point for choosing a custom tour. There are many people who want the luxury of having a personal travel planner, but don't have the budget to support said luxury.
"Can you provide me a breakdown of the costs of the activities for Day 4?"
"Can we share rooms at this hotel to get the costs down?"
"Why is this restaurant so expensive, please cut that out."
These are all phrases I've heard hundreds of times when planning custom tours for people. If you want a tour customized and planned for you for Japan, it's best to spend a few minutes doing a quick internet search on how much the accommodations costs for the level that you are aiming for. For instance, if you are wanting to stay at 4 to 5-star accommodations (and are concerned about cost) you should take a look at how much the average hotel costs at that level, as many of them can cost around $1000 or more per night.
As travel planning specialists, we do have partnerships with many of Japan's hotels. The discounts that we receive will reduce the overall cost of your trip, but it isn't a magical power and you still should plan your budget according to the level that you wish to travel at. I can't tell you how many how hours of my life I've wasted planning a tour for someone, who realized that they can't afford what it is that they want at the end of the day, and never booked. Unpaid hours. Because custom tour services can be such a time-intensive activity (our custom tour services include support for our guests as they travel throughout Japan), and we strive to get all of the details right to provide the best possible trip for our guests, we unfortunately do not provide this service to those whose budgets do not match their expectations. We do, however, offer our tour planning services to all budget levels!
If you are in a situation where you know that you can comfortably afford the trip that you want, then I highly suggest having your trip planned by a travel specialist! It makes a huge difference. You can start by contacting us here!
Next, let's take a look at planning a trip on your own.
Planning your own trip is for you if:
There are no group departures that fit what it is that you want to see and do in Japan.
Similar to the custom tour point, if you are looking for experiences that are less common, and you don't find them on any of the group tours, then planning your own trip may be the best way to go. Having said that, you can still receive help with planning your own tour from us. If you want us to review your self-made itinerary, give you feedback or suggestions, or even help you with making reservations to restaurants or other activity locations that may only speak Japanese, we are here to help! You can hire one of our specialist by the hour here. This is a great and affordable way to make sure your self-planned itinerary is actually feasible, and prevent any unforeseen trouble when planning.
Our consultation is only $30/hour, and a lot of people come to us after they've finished their day-to-day itinerary so that we can give it a look, or when they need us to make a call to check availability or make a reservation. Whatever you need, we are at your service!
You prefer traveling alone.
Again, as stated. There are many people (myself included), who simply prefer traveling by themselves so that they can do the things that they want to do when traveling, and don't have to make any compromises with the precious time that they have while abroad. This is absolutely a valid reason for traveling alone, and we have clients who have done this for their first trip to Japan, and then contacted us for a more structured and planned experience for their second visit.
You want to save as much money as possible, or cannot afford a group tour, or a private tour.
As stated. Planning your own trip is very much a possibility, and can still be a very fun, and rewarding experience. Although Japan is, relatively, a more expensive travel destination, it definitely does not mean that you cannot enjoy yourself here when visiting if you don't have a lot of money. There are many people who visit Japan for very specific reasons. Food, anime, architecture, spiritual pursuits, martial arts… the list goes on and on. If you are planning your own tour, it may be easier, and less expensive if you decide to focus on a particular aspect that you enjoy. As flights become less and less expensive, it becomes easier to visit multiple times.
Maybe your first visit will be 65% for food, and 35% for attractions. When budgeting, make your budget reflect your purpose for visiting, that way you won't feel as though you've missed out on anything. I know several people who visit Japan on their own once a year, and the purpose for visiting is totally different each time. Some people explore Japan region by region, year after year. There is a lot to explore and discover here, so I honestly feel as though each visit will be worthwhile, regardless of whether you have a large budget or not!
So to sum things up, you can look at it like this:
Group tours are for you, if you enjoy meeting new people and like the idea of exploring the best spots in Japan with new friends, while having a guide that will take care of the nitty gritty.
Custom tours are for you if you want a unique experience / have a special place in mind that you want to visit, and/or you prefer traveling privately alone, or with your friends and loved ones and have a budget that will allow for you to hire a travel specialist.
Self-planning is for those who simply prefer traveling alone, or those whose budgets do not allow for the services of a travel planner or to sign up for a group tour.
This is all pretty general information, but I sincerely hope this helps! Please let me know in the comments if you have any questions. We plan on writing more articles on traveling to Japan, and also about travel in general, so let us know if there is a topic that you would like to see discussed or covered.